PCCU-TT-40~92
SPECIFICATION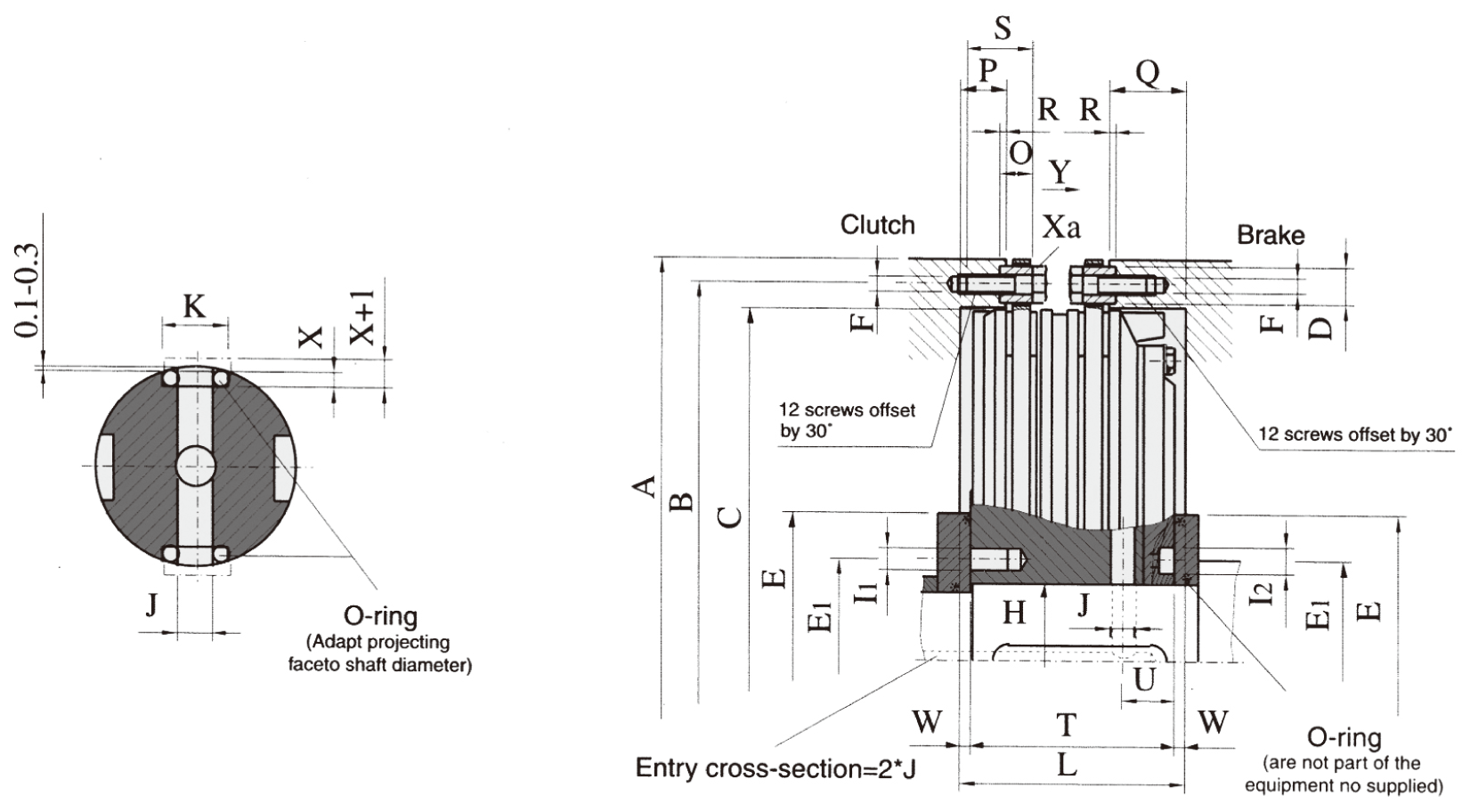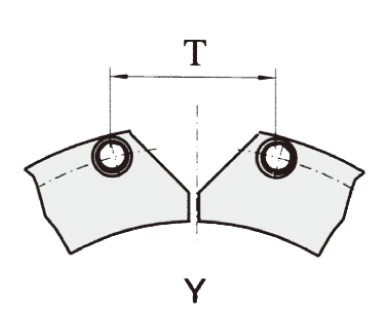 Adequate ventilation space shouuld be provided between the suspension screws. Additional wentilation can be achieved through fixing of ventilation fans on the clutch plated. Details will be given on request.
To allow fitting and removal of the screws, two spaces are provided in the brake plate offset by 180o (see view Y)
Minimum diameter required for the dismantling of the plates is approx. 1.55xA.
Model
Operating
Pressure
Max Speed
(RPM)
Storke Volume
Iterias J-mi^2
(kgm2)
Weight
(kg)
5.5 atm
6.0 atm
New
Condition
With Max
Wearing
Internal
External
Clutch
Torque
(kgm)
Brake
Torque
(kgm)
Clutch
Torque
(kgm)
Brake
Torque
(kgm)
PCCU-40-TT
55
35
63
35
2550
0.10
0.15
0.058
0.025
11.5
PCCU-50-TT
105
70
125
70
1750
0.17
0.30
0.188
0.063
23.5
PCCU-61-TT
215
150
250
150
1400
0.35
0.60
0.550
0.200
46.5
PCCU-71-TT
425
300
500
300
1200
0.65
1.30
1.500
0.575
85
PCCU-74-TT
515
350
600
350
1100
0.75
1.55
2.175
0.825
109
PCCU-76-TT
630
450
750
450
1000
0.95
1.90
3.125
1.175
134
PCCU-79-TT
860
600
1000
600
900
1.35
2.20
5.000
1.850
173
PCCU-82-TT
1280
850
1500
850
800
1.85
3.00
9.250
3.750
268
PCCU-85-TT
1700
1200
2000
1200
700
2.50
3.75
15.750
6.500
378
PCCU-88-TT
2600
1800
3000
1800
600
3.50
5.45
28.750
11.750
540
PCCU-91-TT
3900
2500
4500
2500
600
4.50
7.50
32.000
13.750
623
PCCU-92-TT
5400
3500
6300
3500
550
6.00
9.50
56.750
22.500
980
Model
Diameters
Remain
Hole
Bore
Keyway
Government
H7
A
A1
A2
B
B1
B2
C
D
D1
D2
PCCU-40-TT
25
45
14x3.8
40
12x3.3
35
10x3.3
275
360
442
255
315
410
236
12
22
14
PCCU-50-TT
35
65
18x4.4
60
18x4.4
50
14x3.8
347
435
522
325
390
490
304
15
22
14
PCCU-61-TT
45
80
22x5.4
70
20x4.9
60
18x4.4
435
560
680
408
495
635
380
18
30
22
PCCU-71-TT
45
95
25x5.4
85
22x5.4
70
20x4.9
535
695
855
500
610
790
465
25
40
30
PCCU-74-TT
55
105
28x6.4
95
22x5.4
85
22x5.4
570
730
895
536
645
830
497
25
40
30
PCCU-76-TT
60
110
28x6.4
100
28x6.4
95
25x5.4
620
780
950
584
695
885
543
25
40
30
PCCU-79-TT
70
125
32x7.4
110
28x6.4
100
28x6.4
680
870
1075
640
770
990
593
30
45
40
PCCU-82-TT
90
145
36x8.4
135
28x6.4
125
32x7.4
775
1000
1235
725
880
1135
675
35
55
45
PCCU-85-TT
100
160
40x9.4
150
36x8.4
140
36x8.4
865
1090
1335
810
970
1235
755
40
55
45
PCCU-88-TT
115
180
45x10.4
160
40x9.4
150
36x8.4
1000
1285
1570
945
1140
1450
885
42
65
55
PCCU-91-TT
115
185
45x10.4
180
45x10.4
160
40x9.4
1025
1340
1670
965
1180
1525
905
45
75
65
PCCU-92-TT
115
200
45x10.4
200
45x10.4
185
40x9.4
1145
1460
1790
1080
1300
1645
1015
50
75
65
Model
Diameters
Length
E
E1
F
G
I1
I2
J
K
L
M
O
P
P1
P2
Q
Q1
Q2
R
R1
R2
PCCU-40-TT
85
58
M6
0.8
M8
11
9
20
74
66.00
13
15
8.5
8.5
24
4
39
2
45
28
PCCU-50-TT
125
81
M8
0.9
M10
14
12
25
90
84.12
16
18
10
10
30.5
6.5
49
3
45
28
PCCU-61-TT
145
98
M10
1.0
M10
14
14
30
110
105.60
19
22.5
10
10
36.5
9
52
3
60
45
PCCU-71-TT
170
115
M14
1.1
M12
17
14
30
135
129.40
22
26.5
10
10
42.5
11
68.5
3
80
60
PCCU-74-TT
175
130
M14
1.1
M14
17
17
35
150
138.70
26
29.5
12.5
12.5
48
11
80
3
80
60
PCCU-76-TT
190
135
M14
1.2
M14
19.5
17
35
155
151.15
26
29.5
12.5
12.5
49.5
12.5
83.5
3
80
60
PCCU-79-TT
210
150
M16
1.2
M16
19.5
17
35
170
165.65
27
31
12.5
12.5
56
17.5
84
5
90
80
PCCU-82-TT
240
175
M20
1.4
M16
23.5
23
40
195
187.65
32
35.5
15
15
64.5
19
101
5
110
90
PCCU-85-TT
265
190
M24
1.5
M16
23.6
23
40
213
209.65
37
38
12.5
12.5
69.5
24
110.5
5
110
90
PCCU-88-TT
305
255
M24
1.5
M28
28
28
50
265
244.60
40
73
5
15
78
20
125
5
130
110
PCCU-91-TT
335
265
M24
1.5
M28
28
30
55
285
249.75
45
82
12.5
18.5
87
23.5
123
10
150
130
PCCU-92-TT
375
300
M27
2.0
M34
34
32
60
320
279.50
50
90
12.5
28.5
95
33.5
137.5
10
150
130
Model
Length
Lining Thickness(mm)
Suspension knit matrix (kgm)
S
S1
S2
T
U
V
W
X
New
Old
PCCU-40-TT
25
16
11
66
18.5
10
4
5
3.00
2.00
15.00
PCCU-50-TT
30
16
11
82
23.0
10
4
7
3.25
2.25
35.00
PCCU-61-TT
35
20
16
100
27.0
10
5
7
3.50
2.00
69.00
PCCU-71-TT
45
27
20
125
32.0
15
5
7
5.00
3.00
190.00
PCCU-74-TT
50
27
20
140
36.0
15
5
9
5.50
3.50
190.00
PCCU-76-TT
50
27
20
145
36.5
15
5
9
5.50
3.00
190.00
PCCU-79-TT
55
29.5
27
160
42.0
15
5
9
6.00
3.50
295.00
PCCU-82-TT
70
38.5
29.5
185
48.0
20
5
11
7.00
4.00
850.00
PCCU-85-TT
80
38.5
29.5
203
53.0
20
5
11
7.50
4.50
1000.00
PCCU-88-TT
70
43.5
38.5
255
67.0
20
5
15
8.00
5.00
1000.00
PCCU-91-TT
90
52.5
43.5
260
68.0
20
1.25
15
8.00
5.00
1000.00
PCCU-92-TT
100
52.5
43.5
295
76.0
20
1.25
17
8.00
5.00
1500.00